XTXTYLPJL28CMUMTLV2
VEVOR Pottery Wheel 11in 0-300 RPM Ceramic Wheel, 350W Adjustable Speed Forming Machine, Sculpting Tools Apron, Detachable Basin Manual and Foot Pedal Control for Art Craft Work and Home DIY Blue
About this item
11" Aluminum Alloy Wheel: 11" / 28 cm large aluminum alloy turntable allows users to draw large pieces quickly. Besides, an enclosed water basin prevents mud from eroding and penetrating the fuselage. Moreover, it is detachable for easy cleaning.
Flexible Operation: This pottery wheel comes with a foot pedal and a speed manual handle, rotating smoothly with low noise (less than 60dB) and 0-300 r/min effect. It can be switched clockwise or counterclockwise, enriching the flexibility of the ceramic process.
Security Protection: Single-phase three-wire connection with earth leakage protection device for secure and reliable operation. Moreover, reinforced pads at the bottom of the machine ensure stability and prevent scratches to the floor.
Practical Shaping Tools: We considerably offer you 16 shaping tools for quickly refining your designs and a water-resistant apron lest clay falling on your clothes. These complimentary tools can significantly save your cost and energy.
Versatile Application: The ceramic molding machine supports the complete throwing and shaping process that can meet the majority of both professional and amateur ceramic enthusiasts. Suitable for school teaching, pottery bar, and home use, etc.
See All
Frequently Bought Together
People Who Bought This Item Also Bought
Report Incorrect Product Information
BL
Great beginner wheel
The wheel works well but kinda low. I'm 5'9" and my wife is 5'6" and we both found it too low sitting at a height of 10 inches off the floor to be at the right height with the wheel. If I was to purchase again I would buy the one with the separate foot pedal. I had to raise this up about 6 inches to work at a comfortable height sitting on a 5 gallon bucket making it very awkward to be able to use the foot pedal elevated off the floor. The lever works fine but sometimes the foot pedal is helpful when trimming. It doesn't look like there is an easy way to convert to a separate foot pedal. This may not be an issue for you and it is a great wheel for the money.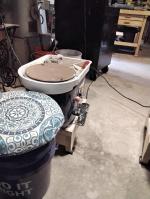 colleen rugur
Works as states. Good quality.
Works well is just a bit messy as it is so small and no place for warer and spatters to go. Does as it states. And is of good quality.
Questions and Answers
Typical questions asked about products:Is the product durable?
Ask the First Question
People Who Viewed This Item Also Viewed