LTFS1BBXGMLFS0001V0
VEVOR Step Handrail 1 Steps Stainless Steel Stair Railing for Indoor or Outdoor Use Step Railing Handrails Metal Hand Rails for Steps, 80 x 90 cm, Silver
About this item
Flexible 1-2 Steps Handrail: 31.5"/ 80 cm in length and 35.4"/ 90 cm in height handrail is perfect for 1-2 steps outdoors stairs. Transitional 0-90°angle can adjust the height from top of handrail to ground(34.2"- 44.9"/ 86.8-114 cm) to suit stairs or porches. The step handrail consists of an upper railing bracket and a steel pipe pillar, providing balance when your families go up and downstairs.
Durable Stainless Steel: Our grab rail for step is constructed with φ1.96"/ 50 mm stainless steel, sturdy enough to support max. 440 lbs/ 200 kg loading without deformation. Comes with well-welded technique and polished technology, our front porch handrail has excellently smooth and comfortable performance, does not hurt your hands. What's more, the handrail is easy to clean and maintain.
Wall & Floor Mount: φ 0.4"/ 9 mm pre-drilled holes can tightly fix the wall & floor handrail on brick, wooden or concrete wall for ultimate stability and security. An ornamental φ 3.3"/ 85 mm base trim is attached to cover screws and bolts, providing rust-proof and a good look. The ergonomic curve design is perfect to match your decor.
Installation Kit to Assemble: With all needed accessories, the stair railing kit is effortless to assemble by one person in a few minutes. Marking the desired position on the wall and the floor, then drilling holes with drill bit, comes the next is to put expansion screws and fix them by wrench, finally, placing base trim over fasteners.
Extensive Application: This modern indoor & outdoor handrail is designed to provide you with a relaxed and pleasant step experience. The fantastic railing can be installed on steps and staircases for patio, balcony, porch, garden, residential building, commercial office building, hotel, garage, etc.
See All
Frequently Bought Together
People Who Bought This Item Also Bought
Report Incorrect Product Information
Chris Gibson
Length : 4.9 ft ;
Reasonable for the price paid. Adjustable fitting
No real instructions but was easy to work out. 12mm masonry bit needed for the floor anchors. SDS drill recommended for drilling into ground. I need to fit mine into the side instead of front of wall. It's a slightly tight fit so I'm going to add a spacer to bring it out from the wall a little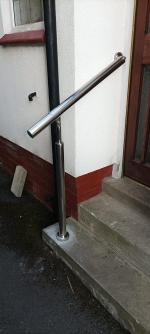 Bazz
Length : 2.7 ft ;
Was easy to install
angela marshall
Length : 2.7 ft ;
Very sturdy
Good quality item and straightforward to fit
Ms. A. Webster
Length : 2.7 ft ;
Value for money.
Minor cosmetic damage reflected in the price. Installation took a bit of working out but worth it in the end. Looks good.
John Wing
Length : 2.7 ft ;
Attractive and robust.
Gave my wife the ability to negotiate our very high door step. I fitted it but found the mounting bolts very poor. Also the mounting covers had to be suprerglued as they had no fixings. Total lack of instructions was poor.
Questions and Answers
Typical questions asked about products:Is the product durable?
Ask the First Question
People Who Viewed This Item Also Viewed