PJZDTPJT000000001V0
VEVOR Beer Tower, Single Faucet Tap Kegerator Tower, Stainless Steel Draft Beer Tower, 3" Diameter Column Beer Dispenser Tower, Beer Tower Kit with Hose, Wrench, Black Handle, 4 Nuts for Home & Bar
number of taps:

Single Head
About this item
【HIGH-QUALITY MATERIALS】 - 3" diameter beer tower consists of a 304 stainless steel body, sturdy and durable. The attached beer tube is made of PVC plastic with a special lining to protect your beer or other draft beverages' fresh flavor.
【SINGLE STAINLESS STEEL FAUCET】 - The faucet on the draft beer dispenser comprises 304 stainless steel, compact and anti-rusty, under the commercial beer industry's standard configuration, and can be completely disassembled for easy cleaning. So you can easily enjoy the happy time of beer with comfort.
【FULL SET OF FITTINGS】 - Include one 14 in / 360 mm & 3 in / 76 mm Dia. beer tower, one 3/16 in / 4 mm inner diameter beer tube (already assembled in the beer tower), one 3.1 in / 79 mm faucet, one rubber faucet cover, one insulation cotton, one wrench, one gasket, one black tap handle, one set fasteners.
【EASE TO ASSEMBLE】 - A complete set of accessories and instructions included can help you quickly install and put them into use. You can drill a hole in the bar counter, pass the hose through the hole, insert it in the refrigeration unit, and then screw the faucet on the counter or directly on the kegerator dispenser you already have.
【WIDE RANGE APPLICATION】 - The beer beverage tower is a simple and economical solution for your home bar. It can hold other soft drinks besides beer, such as wine, juice, etc., and has been widely used in indoor or outdoor gatherings or commercial occasions like bars, hotels, restaurants.
See All
Frequently Bought Together
People Who Bought This Item Also Bought
Report Incorrect Product Information
Baz Nic
Drip Tray : Yes ; number of taps : Single Head ;
Good kit
If you bought the drip tray Alone if would be £25 plus, the tower and tap would take that to over £65 so overall a great price.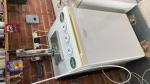 Jason
Drip Tray : Yes ; number of taps : Single Head ;
Mr
Great tower, looks the business, and works brilliantly. Only problem I found was the pipe that was supplied with it wouldn't fit the john guest connectors on my home brew keg system, so had to replace the pipe with one that fitted. All in all I'm impressed with the tower and will be buying another when I add on to my home bar system
James Selman
Drip Tray : No ; number of taps : Single Head ;
Beer Tower
It did not come with the connection needed for the connection to the keg so I had to disconnect the line provided and attach the old one from my original tower. That is my only complaint
Questions and Answers
Typical questions asked about products:Is the product durable?
Ask the First Question
People Who Viewed This Item Also Viewed